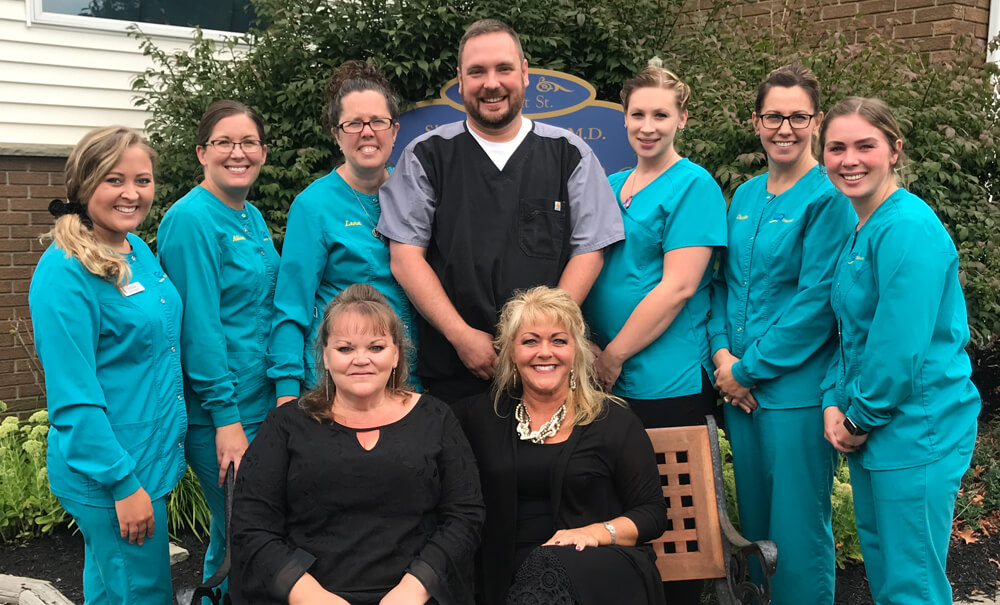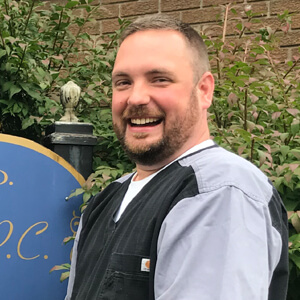 Shane C. Blake, D.M.D.
Not only did Dr. Blake know at the age of 12 that he wanted to be a dentist, but he knew where he wanted to practice: right here in Potter County, Pennsylvania, where he was born and raised.
Upon graduating from Northern Potter High school, Dr. Blake headed to Susquehanna University in Selinsgrove, Pennsylvania for his undergraduate education.  His years at Susquehanna provided him with a strong science background and in 1998 he earned a Bachelor's of Science degree in Biology.  There was no time to sit back and rest on his laurels, however, as in the fall of that year Dr. Blake was selected for a position in the Temple University School of Dentistry Class of 2002.
Upon completion of his doctoral program, Dr. Blake began practicing family dentistry in Coudersport at the heart of Potter County.  He opened his own practice in January of 2005.  Since then, he has continued to invest in continuing education to offer the highest quality services to his patients.  He has invested considerable time to provide the best technology to care for his patients
Dr. Blake is a member of:
The Eighth District Dental Society
Pennsylvania Dental Association
American Dental Association
Academy of General Dentistry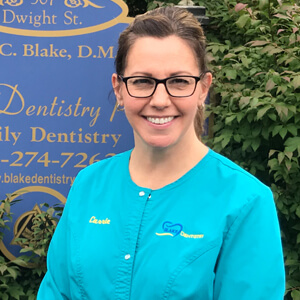 Carrie
Registered Dental Hygienist Carrie has been practicing full time since 1999, when she graduated with an Associate's Degree in Dental Hygiene from Pennsylvania College of Technology.  Carrie has been an integral part of Blake Dentistry since the very beginning of the practice in 2005. 
Carrie is the ultimate professional, a calm center in a sometimes-chaotic environment.  Her quiet enthusiasm is contagious.  You're watching a master at work, whether she's reviewing and updating health history, performing head and neck oral cancer screenings, or educating patients on proper oral hygiene, nutrition, and the risks of tobacco use. 
In addition to cleaning patients' teeth, taking x-rays, applying fluoride and sealants, and making sure patients' charts are up-to-date and that we have a record of all their dental work, Carrie is also licensed to administer local anesthesia.  That's right- Carrie can give shots!
Over the years, Carrie has developed relationships with her patients based on a deep respect and concern for their well-being.  When a nervous patient finds their way to her chair, Carrie's confident and compassionate demeanor and her gentle technique help ease the fears.  Carrie makes it a point to communicate with her patients so that if they find anything uncomfortable, they know they can tell her and she will adapt to make the situation more comfortable for them.
Even if you can't see the ready grin from behind the mask, you can see it in her eyes.  Carrie is a person who loves what she does and who is extremely skilled at it!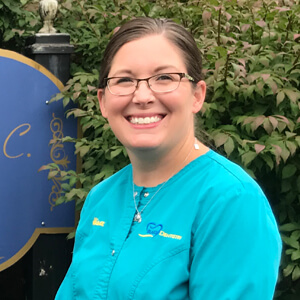 Alisa
Registered Dental Hygienist Alisa graduated from Pennsylvania College of Technology in 2007 and has been practicing at Blake Dentistry since 2014. 
Although she deftly uses cutting-edge dental technology, Alisa emphasizes the importance of personal interactions with patients, whether she's performing cleanings, taking x-rays, applying sealants, or giving patients instructions on proper homecare.  She uses a quick sense of humor and perspective to calm any nervous patients in her chair.
One of Alisa's favorite aspects of being a dental hygienist is seeing patients smile after she's finished cleaning their teeth, especially if it's been a long time since they've had a professional cleaning.  It makes her happy when her patients leave her chair with squeaky-clean teeth and a big smile!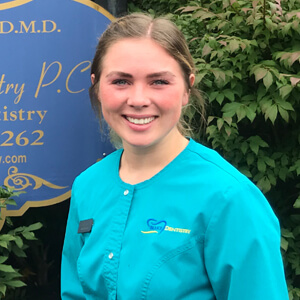 Brianna
Dental Hygienist Brianna firmly believes that the quality of oral health a person enjoys has a direct impact on their quality of life.  Since the summer of 2019, she has been putting a personal touch on helping patients at Blake Dentistry achieve their best oral health.  She also teaches patients how to improve dental home-care so that they can maintain optimal oral health.  
Brianna takes the time to get to know each patient in her chair, so she can learn how to make the visit as comfortable as possible.  She can also offer sound advice for patients seeking to get the most benefit out of their daily oral-health routines.
Brianna's a big fan of the Philips Sonicare electric toothbrush, and explains that it can clean teeth more effectively and completely than a manual toothbrush, and can reduce sensitivity.  She suggests pairing the Sonicare with Crest Gum Detoxify Deep Clean toothpaste, which bubbles and cools in the mouth, for an extra-fresh feeling.
Brianna is knowledgeable and enthusiastic and will make sure each patient in her chair leaves with a healthy smile!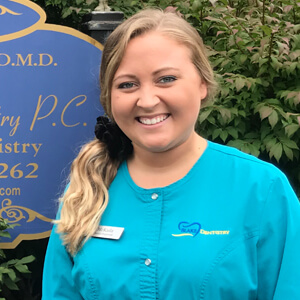 McKaila
McKaila is a 2019 graduate of Pennsylvania College of Technology in Williamsport, PA.  As a Dental Hygienist at Blake Dentistry, McKaila focuses on using education as a way to make patients feel more comfortable in the dental chair, as well as to empower them to optimize their own oral health at home.  She wants to help patients to love their smiles!
When asked what her favorite dental product pick is, McKaila points to the Oral-B Genius Powered Toothbrush.  She prefers the round brush-head on this model and relates that a powered toothbrush removes more plaque than a manual toothbrush can.   
She is also furthering her education, working toward her Bachelor's in Dental Hygiene with a concentration in Health Policy and Administration. 
McKaila is a calm, reassuring presence for patients and an excellent source of dental knowledge and advice!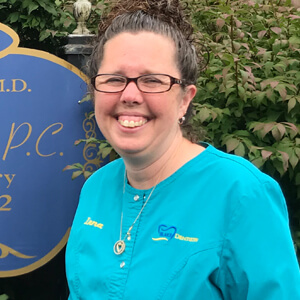 Lena
Dental Assistant Lena has been instrumental in providing the best possible experience for patients at Blake Dentistry since she joined the staff in 2007.  Lena takes a special interest in making sure the patients in her chair are able to relax.  She has an uncanny ability to get to the heart of what makes a patient nervous, whether it's unpleasant past experience or fear of the unknown.  She's a master at keeping the mood light, diffusing nerves with humor and empathy. 
Lena exemplifies using a personal touch to make a patient comfortable, even holding a patient's hand if that's what they need in order to understand that they're not alone!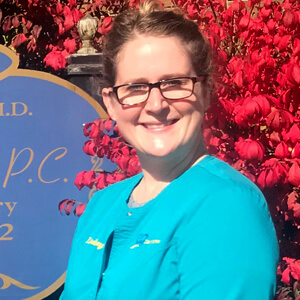 Lindsey
Lindsey graduated from the Cattaraugus-Allegany BOCES in 2013 and has been a Dental Assistant at Blake Dentistry at various times since 2014. 
As a dental assistant, Lindsey makes sure Dr. Blake has everything he needs for each procedure, and she also provides a cheerful, reassuring chairside presence for our patients.   Lindsey is Blake Dentistry's resident E4D-PlanMeca crown and fixed tooth replacement expert. 
Lindsey uses cutting-edge dental technology and a cheerful manner to help optimize patients' overall health by ensuring they receive the best dental care possible!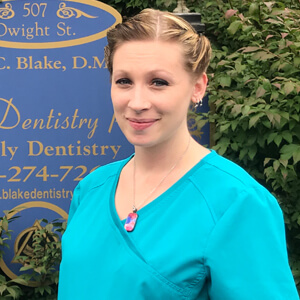 Lorinda
Dental Assistant Lorinda joined Blake Dentistry in 2017 and jumped right in, preparing operatories, doing labwork, and helping out in any way she can in the day-to-day around the office.  She graduated from BOCES in Olean, NY in 2016.  Chairside, Lorinda is a calming force, ready with a reassuring word and a description of a patient's procedure. 
Lorinda loves the challenge of assisting and is excited that every day is a learning experience.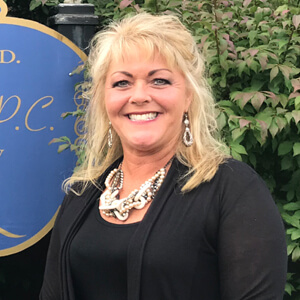 Cathy
Cathy joined the Blake Dentistry team in 2006 and has been a force of happiness, compassion, and positivity ever since!
Although Cathy's job title is "Receptionist," she is more accurately our office quarterback, cheerleader, and air traffic controller.  In addition to keeping Blake Dentistry's schedule filled and running smoothly, she also coordinates our patients' appointments with specialists' offices, fields telephone calls, confirms appointments, and setting the tone for a positive experience from the moment a patient walks through the front door. 
The ultimate people person, Cathy is a natural at listening to our patients' concerns and calming their pre-appointment jitters.  She makes sure they leave our office with a smile!
Angela
Angela is our Financial Coordinator.  She joined us in 2017 after working for eleven years at another medical office.  She's well-versed in front and back desk operations and navigating insurance payments and claims and she's an ace at making patients feel welcome.  She is our patients primary point of contact for all things financial regarding their care.   She helps our patients understand their insurance benefits and use towards their' dental care.   She also handles copays and any financial arrangements .
A firm believer in the transformative power of dentistry, Angela brings enthusiasm and empathy to her position at Blake Dentistry!
Office Hours
Monday8:00 am - 5:00 pm
Tuesday8:00 am - 5:00 pm
Wednesday8:00 am - 5:00 pm
Thursday 8:00 am - 5:00 pm
Friday Closed
Saturday/Sunday Closed
Contact Us
507 Dwight Street, Coudersport, PA 16915
  Call 814.274.7262
Follow us